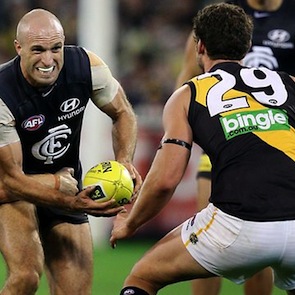 Wake Up!
Wake Up!
---
It's time to wipe the sleep from our eyes after a long and lazy summer. The weather's still mild, but real life has returned. School's gone back, and that fortnight you spent at the beach is a distant and blurry memory.
The traffic on the roads is driving you mad . . . just like last year.
You really need to do something about eating better . . . just like last year.
The shopping bill, home loan and petrol all went up . . . just like last year.
Your wages didn't . . . just like last year.
Just like last year though, there's something in the air as March approaches. Something hopeful that nudges you out of bed each morning, just to inch you closer to the weekend. Something that's marking off the days in the mental calendar, closing in on that big red circle you've got around the date that is . . . . . .
Your club's first home and away game!
Now, try to remember when you were a little kid. The ENORMOUS thing that footy was. Just for a moment, take your self back and become that little boy or girl in the woolen footy jumper (or duffle coat if you're my age or older). Your favourite player's number on the back, the MCG rising on the horizon as you walk from that "secret" back street car park that only your Dad knows about. Let the immensity of that moment return to you now. Let that wave of youthful anticipation over come you so that you need to take the deepest of breaths. The excitement of knowing that in a very short time, you'll hear that siren, followed by the roar of the crowd. The ball will bounce and the season will be away.
A little more than a month from now, I'll be regressing happily, yelling and clapping like an excited toddler as Lids, Cotch, Dusty and Jack tear into the Blues. Can't wait. We're gonna win the flaaaaaag!
Gonna win it every February.