Harry Summers Tan Effort
Harry Summers Tan Effort
---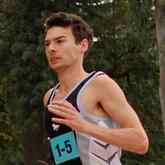 I'm a little bit late on this post, but recent news is that Harry Summers (from Sydney) has moved himself into second place on the list of fastest Aussies to ever run the tan. The feat was accomplished on his leg of the recent (annual) tan team relays.
Harry's a former soccer player, that trains under Sean Williams (with 10km Olympian Ben St Lawrence).  Notably, Harry's a barefooter, his Tan best completed in Vibram 5 Fingers.
Well done Harry. Will get a photo of the leader board up here when it's updated.